"Crisis within the crisis": the UN leads an aid campaign
The United Nations and its humanitarian partners on Friday launched a campaign to raise $ 107 million (about 5.35 billion pesos) for more than half a million Filipinos displaced last week by Typhoon "Odette" (name international: Rai).
Larger Philippine companies have also been mobilized to raise funds and relief supplies for victims of the most violent and deadly storm to hit the country this year through the Philippine Disaster Resilience Foundation (PDRF). .
In addition to cash aid and relief goods, these trading conglomerates have also provided resources and expertise in the relief effort free of charge – shipping companies and airlines delivering food and non-food items, businesses to telecommunications setting up emergency call stations and electricity distributors sending expert personnel to help residents. in the restoration of electricity.
According to the United Nations, the Humanitarian Needs and Priorities (PNH) plan was launched to meet the needs of some 530,000 people in the most affected areas, including Caraga and the Eastern Visayas.
"The PNH is requesting $ 107.2 million to help the government meet the most urgent humanitarian needs over the next six months," she said in a statement.
United Nations Resident and Humanitarian Coordinator Gustavo Gonzalez said the response outlined in the plan will also prioritize protective measures against COVID-19.
"It's a crisis within a crisis. This happened at the end of the year when the government managed to contain COVID-19 infections and vaccinate a significant number of the population. We will work with the Department of Health (DOH) to ensure that these hard-earned gains are not lost, "he said.
The United Nations Central Emergency Assistance Fund (CERF) allocates $ 12 million (P 600 million) to the United Nations Children's Fund (Unicef), the United Nations Population Fund, the Program food and the International Organization for Migration.
CERF is one of the fastest and most effective ways to ensure that urgently needed humanitarian assistance reaches people affected by crisis. CERF's rapid response window allows the UN to immediately launch relief efforts in a coordinated and prioritized response when a new crisis arises.
In addition to the CERF fund, several countries also provided aid to the government on Friday: Taiwan ($ 500,000 or P 25 million), Hungary (€ 54,000 or P 3 million), Singapore ($ 60,000 or P 3 million). P), South Korea ($ 2 million, or 100 million pesos in cash and $ 50,000, or 2.5 million pesos in kind).
Others, including the United States, China, Canada, New Zealand and the European Union, have provided financial aid, supplies and pledges of assistance equivalent to around 417.5 million pesos. Still others have undertaken to provide aid without immediately indicating the amounts.
Calling for more help, the private PDRF foundation said it preferred cash donations to enable them to procure ready-to-eat food, water, temporary shelters, repair of shelters, hygiene kits, generators, solar lights, flashlights and fuel.
Donations can be sent via https://www.pdrf.org/how-you-can-help. Companies actively providing aid include Jollibee Foods, McDonald's Kindness Kitchen, San Miguel Corp., SM Foundation, SM Group's 2GO Group Inc., MVP Group of Companies, Pilipinas Shell, Coca-Cola Foundation Philippines, Manila Water, Manila Electric Co., Smart Communications, Globe Telecom, Philippine Airlines, Cebu Pacific, Air Asia, Lorenzon Shipping, Consunji Construction and Ayala Corp.
Initial P1B for 6 regions
The Ministry of Budget and Management (DBM) said on Friday that local governments in the six regions in a state of calamity would share a first billion P1 in financial aid from the national government.
The Treasury Office will directly disburse the money to local government units through their respective authorized service banks, DBM said.
The allocations by region are as follows: Mimaropa, 171.57 million pesos; Western Visayas, 207.25 million pesos; Central visayas, 188.31 million pesos; Eastern Visayas, 142.5 million pesos; Northern Mindanao, 122.99 million pesos; and Caraga, 167.38 million pesos. These releases were charged to the conditional fund of the national budget of 4.51 trillion pesos this year, said DBM.
Following major disasters in the past, the United Nations had also called for international humanitarian aid for the Philippines: the supertyphon "Rolly" (Goni) in November 2020, the supertyphon "Yolanda" (Haiyan) in November 2013 and the Typhoon "Pablo" (Bopha) in December 2012. — WITH A REPORT FROM INQUIER RESEARCH
Subscribe to our national newsletter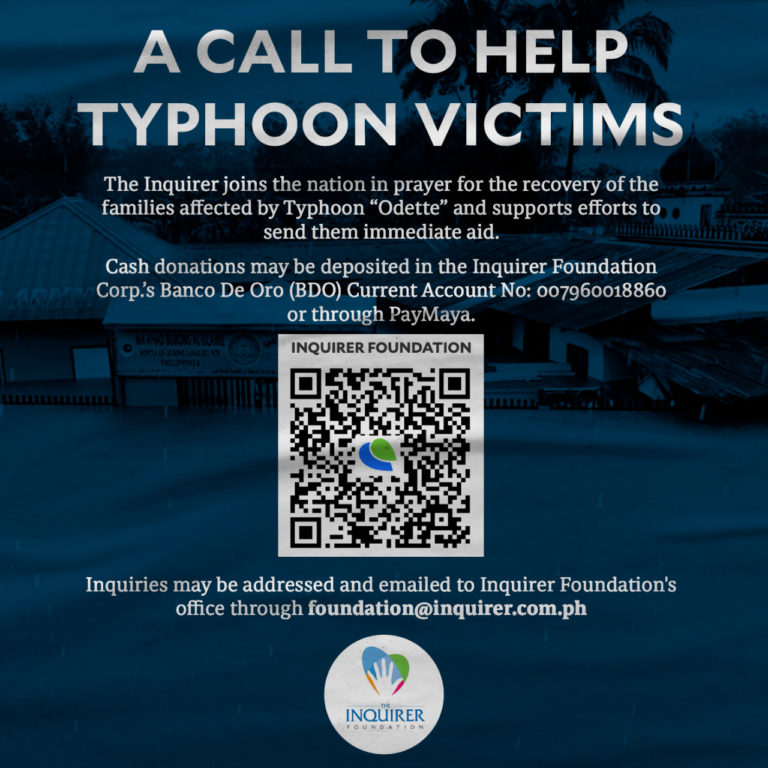 Read more
To subscribe to REQUEST MORE to access The Philippine Daily Inquirer and over 70 other titles, share up to 5 gadgets, listen to the news, download from 4 a.m. and share articles on social media. Call 896 6000.