Fox Island, a Model for Disaster Preparedness – Gig Harbor Now
Community Environment Government Police & Fire Transportation
There's nothing like living on an island with a 68-year-old bridge to make you think, "What's going to happen when The Big One comes along?"
Jim Braden and Doug Nelson put a lot of thought into it. They and other members of the Fox Island Community and Recreation Association emergency response organization have worked tirelessly to ensure that the island's nearly 4,000 residents are as prepared as possible to survive. to a cataclysmic earthquake, as well as your windstorms, heat waves and other disasters.
A model of success
The group is a model for emergency planning at the community level. They were one of the few residential groups in Pierce County to participate in Exercise Cascadia Rising 2016. The drill is a multi-state response to a simulated major seismic event at the Cascadia Subduction Zone.
"Jim Braden, Doug Nelson and the FICRA Emergency Preparedness Team on Fox Island are doing exactly what needs to be done," said Chief Dennis Doan of Gig Harbor Fire & Medic One. "Their organization is an excellent model for other neighborhood groups to emulate. It's the most prepared band I've ever met. I wish all neighborhood associations were as organized as they are.
And yet, Braden said, there's still a lot of work to do. Only around 50% of the island's approximately 1,700 households have stocked up on water, food, medicine and basic supplies for the recommended 30 days.
"The cornerstone of everything we do is individual family preparation," Braden said. "That's probably the most important thing."
Bridge issues
Efforts to build Fox Island's resilience had been going on for decades. In 2012, an inspection of the bridge across Hale Passage – the only way in and out of the island – showed deterioration of the support footings. Pierce County Planning and Public Works has offered to replace the bridge, but if that happens, it will take years. The bridge is sound for normal use, but at risk of collapse during a major seismic event.
Braden, Nelson and others recognized the potential for an 8.0 to 9.0 magnitude earthquake along the offshore fault line that stretches from British Columbia to northern California. They contacted local government and emergency agencies and found they could be alone for days or even weeks.
"If we were to have a full-scale disaster, we realized there were virtually no resources on this island," Braden said. "If the bridge fell, we received no help from the mainland."
Fox Island's charming isolation would be its downside in the event of a major disaster. Large shopping and residential centers will inevitably have a higher priority.
"We kind of found out that there really wasn't a back-up plan if something happened," Nelson said. "So that's when we all thought that we really had to come up with our own plan."
It's a reality that most communities are slow to absorb, let alone act, said Todd Meyer, deputy chief of Gig Harbor Fire & Medic One.
"I think it's great," Meyer said. "They've embraced the idea that they're going to be on their own."
Disaster Preparedness Equipment
Fox Island has a post office, a gas-grocery station, a fire station (usually without full-time staff), no medical clinic, and no school. The students go to school off the island.
The island has a museum, a yacht club and a community center – its former school building built in the 1930s and purchased in 1996 by the non-profit FICRA Building Trust. The Nichols Community Center is where you will find the heart of Fox Island. Everything from quilt bees to trivia parties to summer music festivals takes place on site.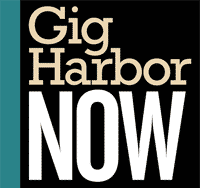 We need your help!
Gig Harbor Now is a 501(c)(3) non-profit organization, funded by donations from readers like you. Until December 31, all donations up to $1,000 will be matched by NewsMatch. Please consider making a donation today!
Make a donation
The building is also the disaster response command center. Head down the uneven concrete stairs to the basement and pass under giant heating ducts (watch your head). On the back wall, you'll find a giant whiteboard to show the status of the Response Teams and Neighborhood Coordinators. Behind the wall is the radio room, with equipment maintained by the local amateur radio club. Here, organization commanders assess the damage caused by a disaster and direct resources where they are most needed.
An industrial-sized portable generator and two large backup battery banks provide power to the community center. Up the hill from the island's water utility, kits of medical supplies and emergency equipment, blankets and other gear fill a stationary tractor-trailer.
The emergency preparedness group purchased equipment and supplies after securing state and federal grants.
Organization
The group worked with government and non-government sources to develop its emergency plan. Braden and Nelson both have emergency response training. Braden worked for Chevron, Nelson for Foss Maritime Environmental Response Group.
In the event of a disaster, people from central command coordinate teams of volunteers ready to deploy on short notice. These include a medical team, led by a medical assistant, and a marine branch co-led by a Navy veteran and a U.S. Coast Guard reserve member.
The infrastructure team, led by a structural engineer, has access to tractors, 4x4s and chainsaws. Their job is to facilitate access and verify the safety of structures.
There is also a communications team and an emergency patrol branch.
FICRA has divided the island into five zones, each with its own coordinator. Neighborhoods of 10 to 15 households make up each area, each (at least in theory) with its own block coordinator. This person's job is to monitor residents, especially those who are elderly or otherwise vulnerable, and report to central command on the condition and needs of their neighborhood.
Success in disaster preparedness
The system works, as the group has seen over the years. The community center provided short-term shelter during severe colds, power outages and heat waves. Two local churches are ready to act as shelters with beds and food as part of a longer-term event.
During a recent wildfire on the southern end of the island, the team was able to alert a block coordinator whose neighborhood was potentially at risk. No one needed to evacuate, but residents were ready.
Recruiting volunteers, especially at the block coordinator level, is an ongoing challenge, Braden said. The same goes for getting households to prepare for disasters.
Braden showed a map of the five areas of the island. The colors on the map indicate which neighborhoods have a block coordinator and which are prepared for self-sufficiency. There is a lot of white space on the map. They will continue to work on this.
Individual preparation
Braden worries that the Fox Island group is a victim of its own success. He fears that the message of preparedness for individual households will be lost due to their regional reputation.
"We want to make sure people understand that we are not a hospital. We are not a grocery store. We are not a gas station, nothing like that. Because otherwise people won't be prepared," Braden said. "At least 51% of the value of what we do is getting individual families to recognize that the best they can do for themselves, period, is to be prepared."
Find FIRCA
Visit foxislandficra.org to learn how to prepare your household for a disaster. Find out how to sign up for Pierce County ALERT, an app that provides up-to-date information about emergency response agencies. Access an interactive map to find out who your block coordinator is and watch videos on topics like food storage.
Find the Fox Island FICRA Facebook page here.